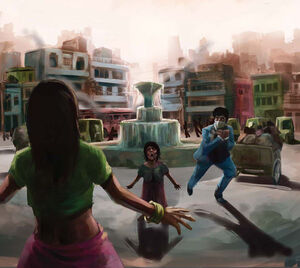 New Delhi
is the capital city of India. It serves as the centre of the Government of India and the Government of the National Capital Territory of Delhi. New Delhi is situated within the metropolis of Delhi. It is one of the nine districts of Delhi Union Territory. The total area of the city is 42.7 km2. New Delhi hosts 134 foreign embassies/high commissions.
When the Krippin Virus reached India, the city streets were thrown into chaos. It can be presumed that most of the populance, including Vatsala and Pritam, were infected and turned into Darkseekers.
Within 48 hours of KV reaching Indian Capital, the streets of New Delhi became desolate and ruined, suggesting that KV has completely destroyed all human life in the city.
Ad blocker interference detected!
Wikia is a free-to-use site that makes money from advertising. We have a modified experience for viewers using ad blockers

Wikia is not accessible if you've made further modifications. Remove the custom ad blocker rule(s) and the page will load as expected.